Here at Toucan we offer a variety of finishing options for books and booklets. Each binding option has unique benefits depending on the end use of your project. When combined with additional finishing features such as lamination, embossing, foiling, spot uv and page throw outs, the variety of options available to customise your booklet is extensive.
Let's start by looking at the type of binding options available:
Saddle Stitched Binding (Staple bound)
Saddle stitching is a very popular book binding method that is quite economical to design and print. With saddle stitching, folded sheets are gathered together and then stapled or "stitched" through the fold line with wire staples. For example, to create an A4 booklet, an A3 sheet is folded then stapled on the fold line or spine to create the finished product.
The end result is a professionally finished booklet that will look amazing and showcase your material in the best way possible.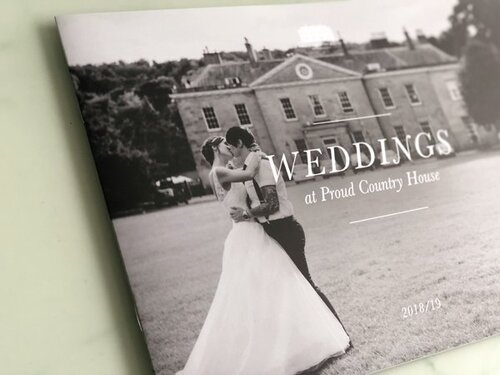 Staple bound booklets for Proud Country House
Loop Binding
If your business needs to print, collate, and store information – perhaps for hard copies of annual reports, internal catalogues, or training manuals – then loop bound printing is the way to go. The loops allow the brochure to be inserted into a ring binder or lever arched file.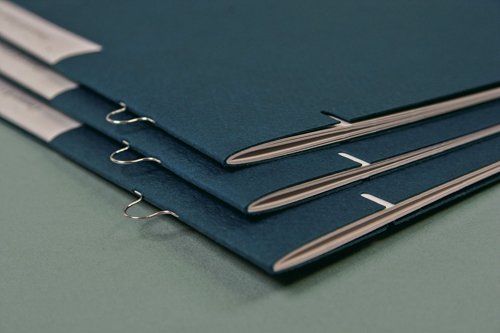 Loop staple binding
Wiro Binding / Coil Binding / Spiral Binding
With any of these booklet options, a series of small holes are punched into the document/booklet then bound together. For durability add an acetate cover to the front/back or lamination. You can choose from black, white or silver wire to complement your design. For a really elegant finish; Half Canadian covers are wrap-around covers that partially conceal the wire. The wire will be hidden by a spine and the front cover, but exposed on the back cover.
Wiro bound book with a half Canadian bound cover
Perfect Binding / PUR Binding
Perfect binding is where the book cover and pages are bound using an adhesive. All of the single pages are stacked together, then the edges are roughened, flattened, and attached inside the cover using an adhesive. Examples of this binding method are paperback books or magazines. Perfect binding works for documents of 32 pages and upwards.
Perfect bound brochures for Lighthouse Brands
Hardcover books
From novel sized children's books through to weighty coffee-table photographic books, book-store quality full colour hardcover book printing has never been so viable.
Hard Cover book printing
And the additional finishes…
Available on A4 staple bound – Choose to have a non-capacity, glued, pocket on the inside front or inside back cover of your Brochure. The pocket can be used to allow the insertion of A4 documents.
Front and back throw-outs are additional pages that fold out from the fore edge of the standard 4 page cover giving a 6 or 8 page cover.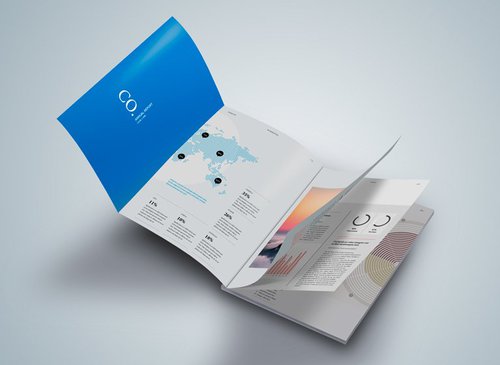 Brochure cover page throw-out
Foiling / spot uv
For a really high end finish have elements on your brochure cover shine to impress with Spot UV and Foiling. Spot UV finish works best with a luxuriously smooth matt laminated cover to bring out the contrast. Foiling can be added to all stocks and looks especially great on an uncoated board. Foiling is available in a range of colours to suit your brand from metallics to matt white.
Spot UV elements with Matt Lamination brochure cover
For a range of paper options to complete the look see our Paper guide.
Get in touch to discuss your requirements and find out how Toucan's bespoke printing and design service can help you.  
About the author
Hi! I'm Keira, and I'm the marketing manager here at Toucan Print. I love to share useful print tips and ideas to help give customers inspiration and make their print look amazing.