Kraft card is having a moment. It might look unassuming at first, but thanks to its natural texture, earthy colour and eco associations, this simple brown stock can have a big impact.
In the latest in our 'spotlight' series, we look at some ideas for effective printing on kraft and showcase a few Toucan projects that have made the most of this hipster-approved material.
What is kraft card?
Kraft is an unbleached, 100% recycled card or paper. It has a natural brown colour and may be either smooth or slightly grainy and fibrous in texture.
What sort of items can you print on kraft?
Kraft lends a vintage or homemade feel to cards, labels and stationery, and, because it's unbleached, recycled and textured, it can create strong associations with nature or sustainability. This makes it particularly well suited to printing business cards for eco-conscious professionals, and ideal for marketing materials for companies focused on the outdoors, wellness or organic food, for example. It can also add a DIY feel to art projects and stationery. Really, though, there are few limits to how you can use kraft – if you can imagine your project, Toucan can help you create it.
Kraft card is a tried and tested choice for rustic wedding stationery ( source: ohsobeautifulpaper )
What different effects can you create when printing on kraft?
Kraft looks particularly striking when printed with bold graphics, blocky text, stencil-style lettering and minimal colours.
You don't have to stick to these tried and tested design features though. For an unexpected twist, combining metallic foils or inks with the natural fibrous texture of kraft creates an arresting contrast for a look that's simultaneously luxe and down to earth. This can be particularly effective for wedding invitations, restaurant or bar menus and hotel stationery. In fact, it works anywhere that you'd like to create the impression of being approachable and yet high-end.
The Joker pub Brighton  – bespoke beermats on 300gsm Kraft card with gold foil logo.
Does kraft look good when printed with colour?
Yes – to a point. When planning your print, bear in mind that lighter colours may look muddy or washed out against a brown background. However, that's not to say that you should limit yourself to monochrome black. Dark browns, blues and greens can look incredibly classy and add to the natural feel of kraft, and bright colours can pop against the muted backdrop. Thanks to their thicker texture, neon inks look particularly vibrant on kraft stock. Recently, there's even been a move towards printing with opaque white ink on kraft card – which can create incredibly bold designs.
Kraft card with colour printing variations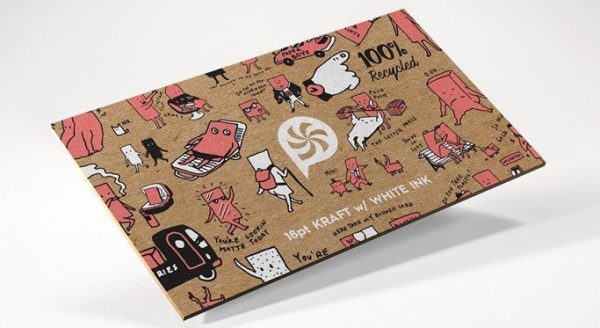 On trend – new print technology now offers white ink on kraft card
How do you go about making enquiries for your kraft printing project?
If you've got an idea for a print project that you think would work brilliantly with kraft card, get in touch so that we can talk through your requirements.
About the author
Hi! I'm Keira, and I'm the marketing manager here at Toucan Print. I love to share useful print tips and ideas to help give customers inspiration and make their print look amazing.